Sensual Nutrition

Sugar Added:
Friend or Foe?

Food Psychology:
Why We Eat More
Than We Think

10 Foods that
Reduce the Risk
of Heart Disease

A Dozen Foods to Add
to Your Diet to Reduce
the Risk of Cancer

Portion Size Me

The Health Benefits of
Soy

Herbal Supplements:
Which Ones Work and
Why

Comparing the Weight
Loss Diets: The Truth
Behind the Hype!

International Food
Guides











Food Psychology is the study of how our thoughts effect our diets. As a speaker and educator about food psychology, nutrition expert Jim Painter says, "If you want to lose weight, think small". His presentations about portion sizes, calorie reduction, heart health, antioxidants, and others have taken him around the world to inspire large and small audiences with the knowledge to help them succeed in today's food culture.

Jim has produced Portion Size Me, a documentary about fast food and health, and been featured on CBS's "Early Show" and in journals and magazines including the Journal of the American Dietetic Association and pop magazine Glamour. His presentations are not only informational and educational; they are also thought-provoking and entertaining, making Jim Painter the right choice for your venue.

Advisory & Consulting Boards
| | |
| --- | --- |
| 2018-Present | Chair of Sugarwise |
| 2017-Present | Del Monte Foods, Inc. Consultant |
| 2017-Present | United Sorghum Checkoff Board Consultant |
| 2017-Present | Chick-fil-A Strategic Advisory Board |
| 2017-Present | Am Heart Assoc Heathier Diet Business Committee |
| 2016-Present | Bush's Beans Consultant |
| 2015-Present | Tree Top Growers Consultant (Tree Top Apples) |
| 2009-Present | National Dairy Council Advisory Panel |
| 2009-Present | Sun-Maid Raisins, Fresno, CA |
More...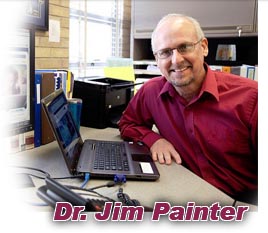 How FIBER
Helps Brain Health