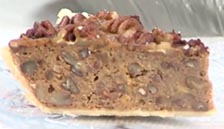 Pecan Pie
8 Servings
INGREDIENTS
1 (9 inch) Unbaked Crust
4 Tablespoons Butter, melted
Raisin/Date Puree*
1 cup raisins
½ cup dates
½ cup water
2 T. corn starch
3 Eggs
1/8 tsp. Salt
1 tsp. Vanilla
1 cup Chopped Pecans
Whole pecans for the top of the pie
DIRECTIONS
Preheat oven to 450 F.
Make raisin puree by combining golden raisins, dates, + ½ cup water. Blend until smooth. Add 2 T. corn starch and blend until incorporated.
In a large bowl, mix melted butter, raisin/date puree, eggs, salt, and vanilla. Mix until well incorporated. Stir in chopped pecans. Pour into forked pie crust.
Assemble whole pecan pieces on top of pie to make a pleasing design to the eye.
Bake in preheated oven for 10 minutes. Reduce temperature to 325 F and bake for 30 - 40 minutes longer, or until golden brown and a knife comes out clean. Let cool. Can be served as bars or pie slices.

Nutrient Analysis per Serving (1"x1" square bar):

Amount per serving:


| | |
| --- | --- |
| Nutrient | Total |
| Calories | 205 |
| Fat (g) | 15g |
| Cholesterol | 38mg |
| Protein (g) | 3g |
| Carb (g) | 17g |
| Fiber (g) | 2g |
| Calcium | 21mg |
| Iron | 1mg |
| Sodium | 107mg |
| Potassium | 159mg |
| Vitamin C | 0mg |
| Vitamin A | 106 IU |